As Google moves further into travel
November 12, 2019 Administrator Online Marketing 79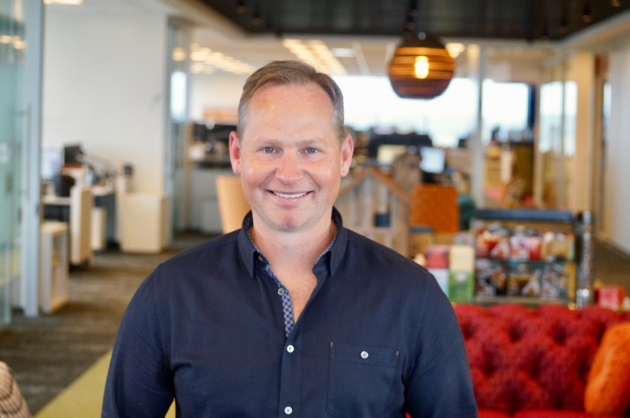 Expedia CEO Mark Okerstrom. (GeekWire Photo / Todd Bishop)
As Google moves further into travel, Expedia Group CEO calls for level playing field in search results
Expedia Group is staring down Google as a looming giant in the field of travel, with the built-in advantage of its prowess as a search and advertising titan, but Expedia CEO Mark Okerstrom is stopping short of calling for increased regulatory scrutiny of the tech giant's approach to booking trips.
When he took the CEO job at Seattle-based Expedia Group two years ago, Okerstrom identified the travel giant's biggest competitor as Booking Group, the parent of travel sites including Priceline and Booking.com. But more recently, Okerstrom has pointed instead to Google as Expedia Group's largest competitor, as the search giant expands its own online travel services.
"Google is in this interesting category of being a great partner of ours, but also a competitor when it comes to selecting where you might want to go," Okerstrom said in response to a question at the recent GeekWire Summit. "We do look at them in some cases as a competitor. And certainly you can't ignore how significant they are in the internet."
Investors and market observers will get the latest insight on Expedia and the competitive landscape when the company reports its third quarter financials Wednesday. The travel giant is expected to post earnings of $3.82 per share on $3.58 billion in revenue.
Expedia operates in a very competitive environment, but Google brings a unique dynamic to the table. Google operates the search engine and advertising platform that Expedia and other online travel companies rely on for large chunks of traffic. Travel is one of the industry verticals where Google has faced antitrust scrutiny over the years, in the U.S. and Europe, and other online travel companies have called for regulators to look at travel again as part of new inquiries into Google's practices.

Media mogul Barry Diller, Expedia's chairman, is among those who have called for increased regulation of Google.

In the past, Expedia has been among the companies that pursued complaints against Google. However, Okerstrom said his main focus is on making sure its partner/competitor sticks to a "level playing field."

"We're mostly interested in ensuring there's a level playing field — a level playing field for all advertisers and all products than the Google marketplace," Okerstrom said at the Summit. "And listen, it's not for me to say that there should be legislation or regulation, but I think there's a role for regulatory oversight of these big platforms and I'll leave it to the regulators to figure out if there should be something done or not."

Okerstrom said he thinks "there has been a level playing field." But he went on to say that "as Google has innovated they have been preferencing a lot of their own products over those of their advertisers."

In September, Google teamed up with Portland, Ore. vacation rental company Vacasa in an alliance that could telegraph the search giant's growing travel ambitions. Through Google's hotel search function, Vacasa's more than 14,000 vacation rentals will now appear on interactive maps that customers can peruse to see what's available. Users will then be funneled to Vacasa's website when they pick a vacation home to book on Google.

At the time, travel news site Skift wrote that vacation rental companies should "watch out for Google."

In addition to its growing competition with Google, Expedia has been busy in recent months. It is beginning to move thousands of employees into its new Seattle headquarters. The company settled disputes with United Airlines and Ryanair, bolstering its position in online travel booking.

When Expedia reports its earnings this week, investors will be watching a few key figures beyond the big numbers of revenue and profits.

- Gross bookings is an important metric for Expedia that represents the total amount spent by customers booking rooms, flights and other travel across Expedia's brands. RBC Capital projects gross bookings to hit $27.2 billion in the quarter, up 10 percent from a year ago, according to an investor note from analyst Mark Mahaney.

- RBC projects total room nights across Expedia brands to reach 117 million in the third quarter, an 11 percent annual jump.

Cr.www.geekwire.com